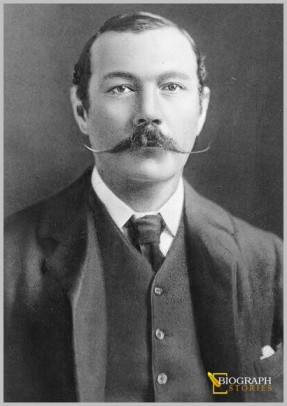 Arthur Conan Doyle Quick Fact:
Born: 22 May 1859, Edinburgh, Scotland
Died: 7 July 1930 (aged 71), Crowborough, East Sussex, England
Occupation: Author, writer, physician
Nationality: British
Education: University of Edinburgh
Genre: Detective fiction, fantasy, science fiction, historical novels, non-fiction
Spouse: Louisa Hawkins (m. 1885; died 1906), Jean Leckie (m. 1907)
Biography of Arthur Conan Doyle:
Sir Arthur Conan Doyle, a renowned English author, who was trained as a Doctor. Sir Arthur Conan Doyle was a successful British writer. He is best known for his creation of the famous detective character Sherlock Holmes. He introduced the character of Detective Sherlock Holmes in his novel "A Study in Scarlet" in 1890. He wrote over 50 short stories about famous character Sherlock Holmes. This renowned creation of Doyle generally considered milestones in the field of crime fiction.
Early Life of Arthur Conan Doyle:
In 1859/, Arthur Conan Doyle was born to an affluent, strict Irish-Catholic family in Edinburgh, Scotland, on May 22. In the world of art, Doyle's family was well respected. Doyle's father Charles was a life-long alcoholic but his mother Mary, who was a lively woman, well educated and she loved to read. She used to tell young Doyle outlandish stories that sparked the young Doyle's imagination. Doyle was send to England at the age of nine, to attend Jesuit preparatory school Hodder Place, from 1868 to 1870. The boarding-school experience for Doyle was brutal; his classmates used to bully him. For the next five years, Doyle went on to study at Stonyhurst College.
Medical Career of Arthur Conan Doyle:
After graduating from Stonyhurst College in 1876, his family thought that he would study art to follow his family footsteps. However, Doyle decided continue his study in medical, at the University of Edinburgh. At the medical school, Doyle was inspired to create his most famous detective character, Sherlock Holmes, from his mentor Professor Dr. Joseph Bell's sharp observation. While Doyle was in third year, he took a post of ship surgeon on a whaling ship sailing. This journey awakened adventure sense of Doyle and he incorporated this feeling into a story, "Captain of the Pole Star". In 1880, Doyle back at the University and in 1881, he received his Bachelor of Medicine degree. As a doctor Doyle's first paying job was medical officer in steamship Mayumba, travelling from Liverpool to Africa. After this sea journey, Doyle practiced medicine at Southsea, England, from 1882 to 1890. Doyle married to Louise Hawkins in 1885 and they moved to London in 1891, there he began to specialize in ophthalmology. In 1884, one of his anonymous stories, "Habakuk Jephson's Statement," appeared in the Cornhill Magazine. It was successful and Doyle began to dedicate himself seriously to writer.
Later Life and Writing career of Arthur Conan Doyle:
In 1893, Doyle's first wife, Louisa was diagnosed with tuberculosis and in 1906, she died in Doyle's arms. After her death, Doyle married a young woman named Jean Leckie and they have two sons and a daughter.
Doyle was struggling a lot to become a successful author. His first novel featuring his most renowned character Sherlock Holmes and his assistant, Dr. Watson, published in Beeton's Christmas Annual. It was received a lot of good reviews and finally Doyle earned his desired success as a writer. It was the first of 60 stories about Sherlock Holmes that Doyle wrote. From 1887 to 1916, Doyle also continued participate in the Spiritualist movement. He also wrote three autobiographical book including "Beyond the City" in 1893, "The Stark Munro Letters" in 1895, "A Duet with an Occasional Chorus" in 1899. Doyle finally decided to retire from medicine. At that time, he also published many famous historical novels including his most famous "Rodney Stone", in 1896. In 1890s and early 1900s, the greatest author published his four most famous Sherlock Holmes books: "The Sign of Four" in 1890, "The Adventures of Sherlock Holmes" in 1892, "The Memoirs of Sherlock Holmes" in 1894 and "The Hound of Baskervilles, published" in 1901. Although, Sherlock Holmes was the most famous creation of Doyle but he had attempted to this famous character so that he can focus more in Spiritualism. However, Doyle brought him back in "The Hound of Baskervilles" and then in "The Adventure of the Empty House" so the most popular character of him could earn more money to fund his missionary work. Doyle also fought for his faith to spread through his work including "The New Revolution" (1918), "The Vital Message" (1919), "The Wanderings of a Spiritualist" (1921) and "History of Spiritualism" (1926). The final twelve stories of Sherlock Holmes, published in a collection entitled "The Casebook of Sherlock Holmes" in 1928.
Death of Arthur Conan Doyle:
Doyle repeatedly ignored his doctor's warnings, though he had diagnosed with Angina Pectoris and embarked on a spiritualism tour in 1929. After ending the tour, when he returned to home, he had so severe chest pain that he needed to carry on shore and then he almost entirely bedridden at his home in Crowborough, England. He raised for the last time in 1930 on July 7 and died in his garden, holding a flower in one hand and clutching his heart with another hand.
Notable works of Arthur Conan Doyle:
The Hound of the Baskervilles
The Adventures of Sherlock Holmes
The Final Problem
The White Company
Stories of Sherlock Holmes
The Lost World