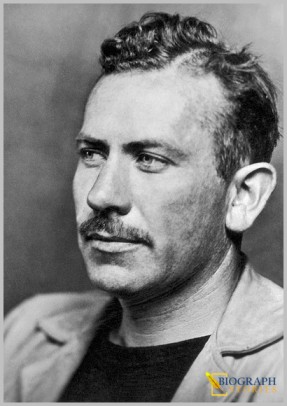 John Ernst Steinbeck Jr. Quick Fact:
Born: February 27, 1902, Salinas, California, U.S.
Died: December 20, 1968 (aged 66), New York City, U.S.
Occupation: Novelist, short story writer, war correspondent
Notable awards: Pulitzer Prize for Fiction (1940), Nobel Prize in Literature (1962)
Spouses: Carol Henning (m. 1930; div. 1943), Gwyn Conger (m. 1943; div. 1948), Elaine Scott (m. 1950)
Biography of John Ernst Steinbeck Jr.:
American novelist John Ernst Steinbeck Jr., was a Nobel and Pulitzer Prize-winner. He was one of the leading novel writer of that time about the working class and major representative for the victims of the Great Depression. He is the author of 16 novels and other works. John is best known for the novels, "East of Eden", "Of Mice and Men". Hismasterpiece, "The Grapes of Wrath" is one of the great American novels: it has sold more than 15 million copies so far. His novels generally considered as the classics of Western literature. John Ernst Steinbeck won the Nobel Prize in Literature in 1962.
Early Life of John Ernst Steinbeck Jr.:
On February 27, 1902, John Ernst Steinbeck was born in Salinas, California. He was the only son of John Ernst Steinbeck Sr. and Olive Hamilton and also they had three daughters. John Ernst Steinbeck Sr. served many years as the treasurer of Monterey County, California; also, he was a bookkeeper and accountant. Olive Hamilton, John's mother, was interested in the arts and John received his love for literature from his mother. Steinbeck decided he wanted to be a writer when he was in high school. He often locking himself in his bedroom to write poems and stories. Steinbeck went to Stanford University in Palo Alto but after staying there for five years, he left university without degree. In 1925, Steinbeck went to New York to establish himself as a writer. However, it was difficult for him to make career there. To support himself, he found work as a construction worker and a newspaper reporter. In 1928, Steinbeck returned to California, found job as a caretaker in Lake Tahoe, and began his writing career.
Writing Career of John Ernst Steinbeck Jr.:
In 1929, his first novel "Cup of Gold" published and it was became his unsuccessful attempt at romance involving the pirate Henry Morgan. After failure of first novel, disheartened Steinbeck begin work as a writer of serious fiction. In 1933, he published his second novel "To a God Unknown" and it was his statement about man's relationship to the land. In 1935, Steinbeck earned critical and popular success with his "Tortilla Flat". It was consider his most artistically satisfying work by many critics. Next, Steinbeck wrote about the problems of labor unions in "In Dubious Battle" in 1936. A tightly constructed novella about an unusual friendship between two migrant workers, "Of Mice and Men" in 1937, was first conceived as a play. The book was powerfully written but some critics says that it was lack of moral vision. "The Grapes of Wrath" was Steinbeck's major and the finest working-class novel of the 1930s. It is a perfect example of social protest in fiction, and a convincing tribute to man's will to survive. In 1940, "The Grapes of Wrath" received the Pulitzer Prize.
Later Life of John Ernst Steinbeck Jr.:
John Steinbeck was served as a war correspondent for the New York Herald Tribune in World War II.
In 1930, Steinbeck met his first wife, Carol Henning and they got married. He poured himself in writing until they got divorced in 1942. From 1943 to 1948, Steinbeck was married to Gwyndolyn Conger, his second wife. They had two sons together. In 1950, he married to his third wife, Elaine Anderson Scott. In the 1950s, Steinbeck published some novels that was overly sentimental, stuffy, and lacking in substance. In 1961, with his more ambitious novel "The Winter of Our Discontent", he earned the modest critical praise. Later because of his popular success of his works, he was awarded the Novel Prize. In United States and Europe, Steinbeck's work remains popular mainly because of its social consciousness and concern. On December 20, 1968, Steinbeck died of heart disease at his home in New York City.
Notable works:
The Grapes of Wrath
East of Eden
The Red Pony
Of Mice and Men
The Pearl
Tortilla Flat
Cannery Row
The Moon is Down
In Dubious Battle
Lifeboat