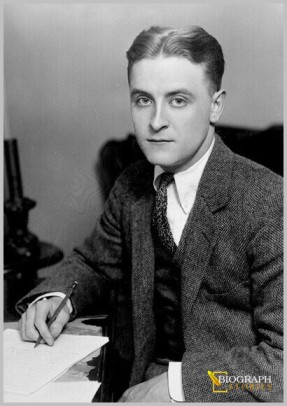 Francis Scott Key Fitzgerald Quick Fact:
Born: September 24, 1896, St. Paul, Minnesota, U.S.
Died: December 21, 1940 (aged 44), Hollywood, California, U.S.
Resting place: Saint Mary's Cemetery, Rockville, Maryland
Occupation: Writer
Period: 1920–1940
Spouse: Zelda (née Sayre) (m. 1920)
Children: Frances Scott Fitzgerald
Biography of Francis Scott Key Fitzgerald:
Francis Scott Key Fitzgerald, known as F. Scott Fitzgerald was an American author. He is the most notable member of the "Lost Generation" of the 1920s. Fitzgerald was an extremely observant and exceptional artist. His works helped to illustrate the flamboyance and excess of the Jazz Age. His most famous novel was "The Great Gatsby" (1925) but all his fame come after his death.
Early Life of Francis Scott Key Fitzgerald:
In 1896, September 24, Francis Scott Fitzgerald was born in St. Paul, Minnesota. Fitzgerald was born into an Irish Catholic family. His father was a furniture manufacturer in St. Paul, and his mother Mary McQuillan, was from a wealthy family. After failed in business his father took a job as a salesperson for Procter & Gamble and they moved to Buffalo, New York. Edward Fitzgerald lost his job in Procter & Gamble when F. Scott Fitzgerald was 12, and in 1908, they went back to St. Paul. Fitzgerald was a bright and talented child. He was a student of the St. Paul Academy and at the age of 13, his first writing appear in the school newspaper. In 1911, Fitzgerald was sent to the Newman School a prestigious Catholic preparatory school in New Jersey. In school, he met Father Sigourney Fay, who observe his talent and encouraged him to continue his literary ambitions. In 1913,
Scott graduated from the Newman School. He decided to stay in New Jersey and went to Princeton University. At Princeton, writes scripts for Princeton's famous Triangle Club and frequent articles for the Princeton Tiger magazine. However, because of his low grades he was placed on academic probation. In 1917, he left University without degree and joined the U.S. Army as a second lieutenant. In 1918, he met his future wife Zelda Sayre. After his army period, he moved to New York and took an advertising job for a brief period to convince his girlfriend, Zelda, to marry him. However, he quit his job and move back to home to finish his first novel "This Side of Paradise", published in 1920.
Work Life of F. Scott Fitzgerald:
The publication of his first novel "This Side of Paradise" make him financially successful and he was able to marry his girlfriend Zelda. At that time, Fitzgerald made a close friendship with Ernest Hemingway. Fitzgerald helps his income by writing short stories because his only financial successful work was his first novel. In 1922, he wrote his second novel, "The Beautiful and the Damned", it was sold well.
In 1925, he wrote is masterpiece "The Great Gatsby", though it was became successful after his death. Fitzgerald got his first movie offer in 1926, to write for the United Artists studio and he moved to Hollywood. However, his affair with actress Lois Moran make difficulties in his marital life and he move back to New York. Fitzgerald started writing his fourth novel but his drinking habit, financial problems, and Zelda's declining health make difficulties for him to write. In 1932, Zelda published her own semi-autobiographical novel, "Save Me the Waltz". Fitzgerald got mad about it and insisting that only he could write about their lives together. He also had edits for the publication prior to her manuscript that was made by him.
Later Life of F. Scott Fitzgerald:
In 1937, Fitzgerald was financially unable to reject an offer from Metro-Goldwyn-Mayer to write exclusively for their studio in Hollywood. At that time, he had an affair with gossip columnist Sheilah Graham. He was an alcoholic since his college days and his alcoholism, physical illness increasing day by day. Fitzgerald was suffer from tuberculosis and by the end of the 1930, he suffered from heart attack. Fitzgerald had another heart attack at his home, on December 21, 1940 and died at the age of 44. He was buried at Rockville Union Cemetery. Eight years later, Zelda died in a fire at the asylum and she was buried next to him.
Notable works of F. Scott Fitzgerald:
The Great Gatsby
The Diamond as Big as the Ritz
Tender Is the Night
The Beautiful and Damned
The Last Tycoon
Tales of the Jazz Age
This Side of Paradise
The Crack-Up