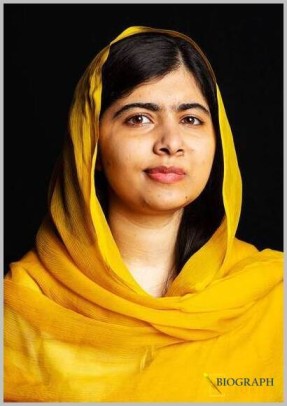 Malala Yousafzai Quick Fact:
Born: 12 July 1997 (age 22), Mingora, Swat, Pakistan
Nationality: Pakistani
Citizenship: Pakistan, Canada (honorary)
Education: Lady Margaret Hall, Oxford
Occupation: Activist for female education, former blogger for BBC Urdu and student
Organization: Malala Fund
Known for: Activist for the right to education, especially female education
Parent(s): Toor Pekai Yousafzai (mother), Ziauddin Yousafzai (father)
Awards: 2014 Nobel Peace Prize
Biography of Malala Yousafzai:
The youngest person ever who is awarded the 'Nobel Prize', Malala Yousafzai, a Pakistani women's rights activist. She won the 'Nobel Peace Prize' in 2014. Malala defied the Taliban in Pakistan and demanded that girls be allowed to receive an education as a young girl. She was born into a progressive thinkers and educationists family. When she was just 11 years old in an anonymous blog, she started expressing her frustration over the restrictive practices of the Taliban. Her blog gained much prominence around the world as she wrote about how the Taliban were attempting to control the valley and trying to prevent girls from going to school. Soon she became popular as an emerging activist who campaigned for girls' rights to education. Her father encouraged her to freely express her thoughts and she became more vocal in voicing her opinion of women's rights to education. The Taliban got angry because of this and issued a death threat against her. When she was returning from school, she was shot by a gunman. The gutsy girl survived the horrific attack and returned to activism even more determined than before. She was very mature and intelligent for her age.
Childhood & Early Life of Malala Yousafzai:
On July 12, 1997, Malala Yousafzai was born, in Mingora, Swat, Pakistan. She was born to Ziauddin Yousafzai and his wife Toor Pekai Yousafzai. The couple had two sons after Malala Yousafzai. The Yousafzai family ran a chain of schools. Her father was an educational activist taught her Pashto, English, and Urdu languages. She attended a school that her father had founded. Her father sensed very early that there was something special about Malala and encouraged her to think and express freely. Yousafzai's hometown was a popular tourist spot for the first few years of her life. However, when the Taliban tried to take control the area began to change.
Activism of Malala Yousafzai:
In 2008, 11 years old Malala Yousafzai started speaking about education rights. She addressed an audience at a local press club in Peshawar and the title of her talk was, "How dare the Taliban take away my basic right to education?" In early 2009, she began writing an anonymous blog for the 'BBC Urdu' at the behest of her father. She used the name 'Gul Makai' in order to hide her identity. Aamer Ahmed Khan of 'BBC Urdu' originated the idea of a schoolchild blogging about the Taliban's growing influence in Swat. However, she was revealed to be the BBC blogger in December of that year. Ziauddin Yousafzai encouraged the 11-year-old Malala to write about Taliban, which was a very risky decision for himself. On 3 January 2009, her first blog entry was posted. She wrote about how because of the Taliban fewer girls dared to attend school, and then how the Taliban had forced the school shut. Until the school reopened, he continued writing. Malala and her friends started attending classes and then gave her school exams. In March 2009, she ended the blog. She was often invited to deliver speeches and became a popular teenage activist. She continued gaining popularity over the next couple of years. Her activism resulted in a nomination for the International Children's Peace Prize in 2011 and in the same year, she was awarded Pakistan's National Youth Peace Prize.
She routinely received death threats from the Taliban because they increasingly becoming agitated with this young crusader. She and her family initially felt that the fundamentalist group would not actually harm a child and they were frightened for the safety of her father, an anti-Taliban activist. On 9 October 2012, a masked gunman boarded the bus in which Yousafzai was riding with friends on their way home from school. Taliban gunman asked to know which girl was Yousafzai. Her location was given away when her friends looked at her. The gunman fired in the left side of her head. The bullet went through her head and neck and ended up in her shoulder. Two of her friends were also injured in the attack. She survived the attack but she was in critical condition and received immediate treatment at a hospital in Peshawar. A portion of her skull was removed to treat her swelling brain. Later, for further care, she was transferred to Birmingham, England. Eventually, she recovered and in March 2013, in Birmingham at the all-girls 'Edgbaston High School' she resumed her studies. She received an outpour of support from all corners of the world because of her ordeal with the Taliban and her miraculous survival. The support =helped her to further her cause. On her 16th birthday in 2013, she gave a speech at the United Nation. The UN dubbed the event 'Malala Day'. The same year, her autobiography 'I Am Malala: The Girl Who Stood Up for Education and Was Shot by the Taliban' was published. She continued her activism with fervor and in 2013; she spoke at the 'Harvard University' and the 'Oxford Union'. In July 2014, when she spoke at the 'Girl Summit' in London she advocated the rights of girls. Malala opened a school for the Syrian refugees in Bekaa Valley, Lebanon on her 18th birthday in 2015. Currently, she is pursuing a bachelor's degree in philosophy, politics, and economics at 'Lady Margaret Hall,' Oxford.
Notable Works of Malala Yousafzai:
Malala's Magic Pencil
We Are Displaced
I Am Malala: The Girl Who Stood Up for Education and Was Shot by the Taliban