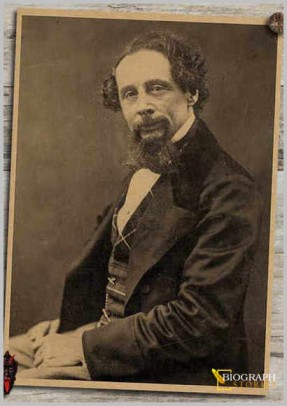 Charles John Huffam Dickens Quick Fact:
Name: Charles John Huffam Dickens
Born: 7 February 1812, Landport, Hampshire, England
Died: 9 June 1870 (aged 58), Higham, Kent, England
Resting place: Poets' Corner, Westminster Abbey, England
Occupation: Writer
Nationality: British
Spouse: Catherine Thomson Hogarth, (m. 1836; sep. 1858)
Partner: Ellen Ternan, (1857–1870, his death)
Who is Charles John Huffam Dickens?
Charles Dickens, in full Charles John Huffam Dickens, was an English novelist, generally considered the greatest of the Victorian era. He created some of the world's best-known fictional characters. Dickens enjoyed a wider popularity during his lifetime than had any previous author. By the 20th century, critics and scholars had acknowledged him as a literary genius. Charles Dickens is much loved for his great contribution to classic English literature. He was the author of 15 novels, five novellas, and countless stories and essays. He also generously promoted the careers of other novelists in his weekly journals and concerned himself with social issues. Being the most abundantly comic of English authors, he was much more than a great entertainer. His novels describe the life and conditions of the poor and working class in the Victorian era of England, when people lived by strict rules.
Personal Life:
Charles Dickens was born in Landport, Portsmouth, on February 7, 1812 and was the second born of eight children of John and Elizabeth Dickens. His father was a pay clerk in the navy office. At the age of twelve, Charles worked with working-class men and boys in a factory that handled blacking or shoe polish because his father was in debtor's prison. After a few months, Charles returned to school when his father received an inheritance and was able to repay his debts, but the experience of his lonely hardship was never forgotten. However, in 1827 after joining school for few days, he was forced to leave school and work as an office boy. From 1830, he worked as a shorthand reporter in the courts and afterwards as a parliamentary and newspaper reporter. In 1836, he married Catherine Hogarth. They had 10 children before they separated in 1858.
Literature Life:
In 1833, he began contributing stories and descriptive essays to magazines and newspapers which attracted the attention of mass readers and were reprinted as Sketches by "Boz". A Dinner at Popular Walk was his first published story. Various magazines and newspapers gave him the opportunity to begin publishing his own fiction at the beginning of his career. In February 1836, the first installment of The Pickwick Papers appeared. Within a few months, Pickwick was the rage and Dickens became the most popular author of the day. After Pickwick's success, Dickens began publishing his new novel, Oliver Twist.  After the death of his wife, his grief was so great that he was unable to meet the deadline for the June instalment of Pickwick Papers and had to cancel the Oliver Twist instalment that month as well. Oliver Twist, published in 1838, became one of Dickens's better known stories, and was the first Victorian novel with a child protagonist. Oliver Twist expressed his interest in the life of the slums to the fullest, as it traced the fortunes of an innocent orphan through the London streets. He continued publishing his novel in his later magazine. For the next decade, his books did not achieve the standard of his early successes. These works include: Nicholas Nickleby (1838–1839), The Old Curiosity Shop (1840–1841), and Barnaby Rudge (1841), Exhausted at last. In 1842, he travelled with his wife to the United States and Canada, which led to his controversial American Notes (1842) which is also the basis of some of the episodes in Martin Chuzzlewit.
Later Life and death:
In his later days, Dickens also began to give public readings from his novels which became even more popular than his lectures. In 1856, his popularity had allowed him to buy Gad's Hill Place which he had admired since childhood. Dickens fell in love with one of the actresses of The Frozen Deep, Ellen Ternan, and this passion was to last the rest of his life. In 1858, divorce was still unthinkable for someone as famous as he was. After a long period of difficulties, he separated from his wife. On 9 June 1865, while returning from Paris with Ellen Ternan, Dickens was involved in the Staple Hurst rail crash. The train's first seven carriages went off a bridge. Before rescuers arrived, Dickens tended and comforted the wounded and the dying with a flask of brandy and a hat refreshed with water and saved some lives. In 1869 Dickens's doctor advised him against giving further public readings. On 8 June,1870, Dickens suffered another stroke at his home after a full day's work on Edwin Drood. On June 9, 1870 Dickens died at Gad's Hill Place. He was buried in the Poets' Corner of Westminster Abbey.
Notable Works of Charles John Huffam Dickens:
Bleak House
David Copperfield"
Great Expectations"
Oliver Twist"
Dombey and Son"
A Tale of Two Cities"
Little Dorrit"
A Christmas Carol"
The Mystery of Edwin Drood"
Hard Times"