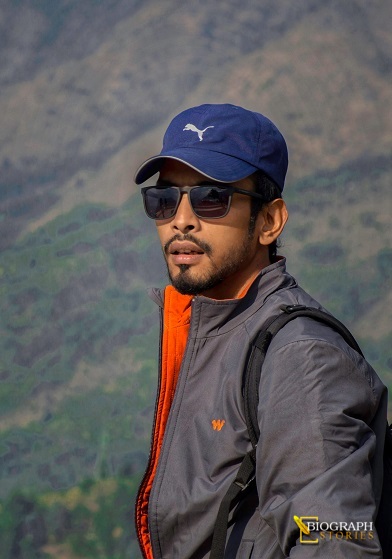 Hedayet Sajid Quick Fact:
Born: January 5, 1989, in Bhola, Bangladesh
Occupation: Entrepreneur, Traveller
Education: Post- Graduate
Title: Founder, CEO ( Tourist Signal )
Nationality: Bangladeshi
Biography of Hedayet Sajid:
Hedayet Sajid was born in Bhola, Bangladesh, on January 5, 1989, Hedayet Sajid Also known as Md. Hedayet Ullah is a Bangladeshi Social Activist, travel influencer, entrepreneur, and Filmmaker. He is known as the Founder of the Travel platform website Tourist Signal and chief executive officer ( CEO ), of Internet Company Champ coders.
Early life and education:
Hedayet Sajid was born in Bhola, Bangladesh, on January 5, 1989,  [7] the son of Teacher Ruhul Amin and Nazminara Begum. He is the youngest child among Three siblings, having an older sister and older brothers. He and his elder sisters Momena Afrin, and Elder Brother Habibul Morsalin were raised in Bhola. He attended the National University of Bangladesh, Graduating in 2012 with degrees in Accounting.
Travel And Career
After college, Sajid Started Freelancing in Upwork ( formally Odesk ) to earn more money to travel. and traveled to 100+ Destinations in Bangladesh during that time. After Graduate he quit Freelancing and launched Dreamy tech ( a digital marketing Company ) with his friend. where he worked as a Digital Expert Dissatisfied with office work he left the Company and Started Travel Blog named Vromonto in February 2014, Presently Registered name is Tourist Signal. His blog is often listed as Bangladeshi's leading blog.
Tourist signal was developed to help people share their real-life travel experiences with friends, family, and other travelers. It also organized budget-friendly tours for students and provide environmental awareness to people. Sajid represents Bangladesh internationally through his Travel platform Tourist Signal. 
Tourism is one of the sectors most affected by the Covid-19 pandemic, impacting economies in Bangladesh. Later in 2020 Hedayet Sajid lunch an Internet marketing platform Named Champcoders. It was developed to help jobless people to work from home. Champ coders Connect reputed company to manage Digital marketing and IT service projects most of the companies agreed after signing the new project Sajid hire unemployed talent to complete the project. Currently, it has 100+ Team members.
Social activities:
Hedayet Sajid is a Human rights and environmental activist from Bangladesh.  He joined the "Road safety" Protest" which was held from 29 July to 8 August 2018.
He Gives Some Advice About Travel:
Travel for humility:
Without a doubt, travel is a crash course in humanity. Travel takes us out of our comfort zones and inspires us to see, taste, and try new things. It constantly challenges us, not only to adapt to and explore new surroundings but also to engage with different people.
We learn to recognize and be grateful for all of the things we take for granted in our own lives, and we also gain an appreciation and respect for how others live. Travel teaches us to be tolerant, flexible, and open-minded, and most of all it makes us humble.
Travel to relax:
Our lives are time-starved and technology-driven and, let's be honest, it's not often that we actually take the necessary time to de-stress and truly switch off. Travel allows us to escape life's daily demands, dramas, and deadlines and enables us to clear our minds. It encourages us to recharge our batteries and to truly disconnect (from our phones, Wi-Fi, emails, laptops, social media, etc.) in order to reconnect (with ourselves, each other, and the natural environment).
Travel to learn:
Not all classrooms have four walls and travel is the best way to immerse yourself in geography, history, culture, gastronomy, languages, biology … you name it. Travel enriches the mind and educates us far beyond any textbook or travel guide.
Travel to meet:
Travel exposes us to different cultures and ancient traditions and through these authentic encounters, we learn to embrace and celebrate both our similarities and our differences. Travel teaches us about humanity and gives us an appreciation, understanding and respect for different points of view and ways of life. Travel gives us our greatest stories, our most cherished memories, and countless irreplaceable learnings that we can choose to pay forward to others. It teaches us about ourselves and each other, it broadens our horizons and, just like a reset button, it forces us to refocus on what really matters.