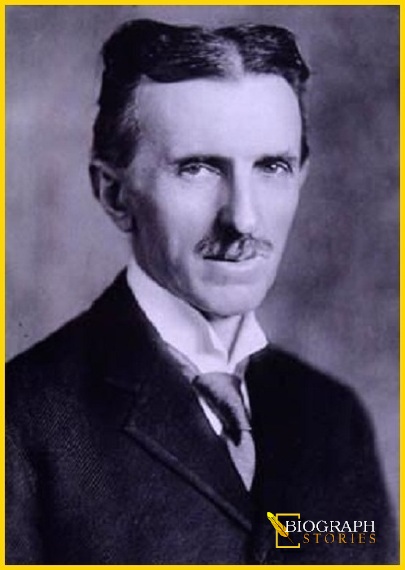 Nikola Tesla Quick facts:
Born : 10 July 1856; Smiljan, Austrian Empire (modern-day Croatia)
Died : 7 January 1943 (aged 86); New York City, United States
Resting place: Nikola Tesla Museum, Belgrade, Serbia
Citizenship: Austrian (1856–1891); American (1891–1943)
Education: Graz University of Technology (dropped out)
Projects: Alternating current, high-voltage, high-frequency power experiments
Who Was Nikola Tesla?
Nikola Tesla was a brilliant engineer and scientist known for designing the alternating-current (AC) electric system which in today's world is using as electrical system and the inventor of "Tesla coil" that is still been using in radio technology. Being born in modern-day Croatia, Tesla came to the United States in 1884 and briefly worked with another legendary scientist named Thomas Edison.
Early Life
Nikola Tesla was born in Smiljan, Croatia, on July 10, 1856. Tesla was one of five children of Djuka Mandic and Milutin Tesla. His father, Milutin Tesla, was a Serbian orthodox priest and a writer, and he pushed for his son to join the priesthood. But Nikola's interests lay squarely in the sciences with the influence of his mother's discovery centric education.
In his early life, he was studying at the Realschule, Karlstadt in Germany. Later, he joined the Polytechnic Institute in Graz located in Austria.
In December 1878, Tesla left Graz and severed all relations with his family to hide the fact that he dropped out of school. Tesla moved to Maribor, where he worked as a draftsman for 60 florins per month. He spent his spare time playing cards with local men on the streets.
In March 1879, his father went to Maribor so that he returns home but he refused. On 17 April 1879, his father died at the age of 60 after contracting an unspecified illness.
In January 1880, two of Tesla's uncles saved enough money to help him leave Gospić for Prague. He arrived too late to enroll at Charles-Ferdinand University. Tesla attended lectures in philosophy at the university as an auditor but he did not receive grades for the courses. After completing there, he moved to Budapest in search of livelihood. In Budapest, he came up with the idea for the induction motor for the very first time. At the age 28, Tesla decided to leave Europe for America.
Nikola Tesla, the apprentice of Thomas Edison
In 1884 Tesla arrived in the United States to the famed inventor and business mogul Thomas Edison who hired Tesla by noticing his intellectuality. They started working relentlessly alongside each other to make improvements to Edison's inventions.
Several months later, they fall apart due to a conflicting business-scientific relationship. While Edison was a power figure who focused on marketing and financial success, Tesla was commercially out-of-touch and vulnerable.
Inventions
In 1885, Tesla received funding for the Tesla Electric Light Company to develop improved arc lighting and he succeeded to solve the purpose. After completing the contract, he asked for funding his very own Tesla Electric Company and got himself approved.
Throughout his career, Tesla discovered, designed and developed ideas for a number of important inventions. He was also the developer in the discovery of radar technology, X-ray technology, remote control and the rotating magnetic field.
AC Electrical System
Tesla designed the alternating-current (AC) electrical system in 1887 and soon caught the attention of American engineer and businessman George Westinghouse, who was seeking a solution to supplying the nation with long-distance power. In 1888, he purchased his patents for 60,000 dollar in cash and stock in the Westinghouse Corporation.
Hydroelectric Power Plant
In 1895, Tesla designed the first AC hydroelectric power plants in the United States, at Niagara Falls. The next year, it was used to power the city of Buffalo, New York.
Tesla Coil
In late 19th century, Tesla invented the Tesla coil for which today we can enjoy the wireless technologies in radio technology. The heart of an electrical circuit, the Tesla coil works as a inductor used in many early radio transmission antennas.
Free Energy
After the invention of tesla coil and being praised for the invention, his hunger turned into obsession for the wireless transmission of energy. In 1900, Tesla set to work on his boldest project yet to build a global wireless communication system. With funding from a group of investors, Tesla began work on the free energy project in earnest, designing and building a lab with a power plant and a massive transmission tower on a site on Long Island, New York.
But soon, with objection from the investor in terms of doubting the technology, Tesla had no choice but to abandon the project.
Other ideas, awards, and patents
Tesla won numerous medals and awards over this time. They include:
Grand Officer of the Order of St. Sava (Serbia, 1892)
Elliott Cresson Medal (Franklin Institute, USA, 1894)
Grand Cross of the Order of Prince Danilo I (Montenegro, 1895)
AIEE Edison Medal (Institute of Electrical and Electronics Engineers, USA, 1917)
Grand Cross of the Order of St. Sava (Yugoslavia, 1926)
Cross Cross of the Order of the Yugoslav Crown (Yugoslavia, 1931)
John Scott Medal (Franklin Institute & Philadelphia City Council, USA, 1934)
Grand Cross of the Order of the White Lion (Czechoslovakia, 1937)
Medal of the University of Paris (Paris, France, 1937)
The Medal of the University St. Clement of Ochrida (Sofia, Bulgaria, 1939)
How Did Nikola Tesla Die?
Being poor and isolated, Tesla died of coronary thrombosis on January 7, 1943 at the age of 86 in New York City, where he had lived for nearly 60 years.
However, the legacy of the work Tesla left behind him lives on to this day. In 1994, a street sign identifying "Nikola Tesla Corner" was installed near the site of his former New York City laboratory, at the intersection of 40th Street and 6th Avenue.