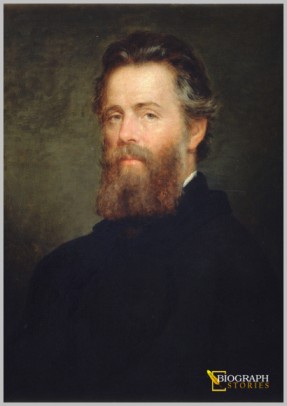 Herman Melville Quick Fact:
Born: August 1, 1819, New York City, New York, U.S.
Died: September 28, 1891 (aged 72), New York City, New York, U.S.
Resting place: Woodlawn Cemetery, The Bronx, New York
Occupation: Novelist, short story writer, teacher, sailor, lecturer, poet, customs inspector
Genres: Travelogue, captivity narrative, nautical fiction, gothic romanticism, allegory, tall tale
Literary movement: Romanticism
Spouse: Elizabeth Knapp Shaw (1822–1906) (m. 1847)
Children: Malcolm (1849–1867), Stanwix (1851–1886), Elizabeth (1853–1908), Frances (1855–1938)
Biography of Herman Melville:
Herman Melville was an acclaimed American novelist, poet and a short story writer. He was one of the first authors to have his works published in the Library of America. Herman Melville belongs to the group of artists whose works grew in importance and stature after their death. His works exemplify the genre of Dark Romanticism. Melville's first few books brought him fame and literary recognition. With his book "Typee: A Peep at Polynesian Life"he gained his first critical acclaim. After that his most popular novel, "Moby-Dick" raised his status as a prolific writer. His other famous books include, "Omoo: A Narrative of Adventures in the South Seas", "Mardi and a Voyage Thither", "White-Jacket", "Clarel: A Poem and Pilgrimage in the Holy Land" and his novel "Billy Budd" which was published posthumously. His book 'Moby-Dick', a book that is regarded as one of the most acclaimed pieces of literature in the world. In the 20th century, he received a great fame as a writer for this book. He was not a financially successful writer, but he received worldwide recognition for his writings.
Childhood & Early Life of Herman Melville:
On August 1, 1819, Herman Melville was born in New York City. He was born to Allan and Maria Gansevoort Melville. His father Allan was an importer and a commission merchant and spent most of his days in abroad. Due to Allan's success as a high-end importer and merchant, the family had enjoyed a prosperous life for many years. Herman Melville attended the New York Male School. However, Allan borrowed a lot of money to finance his business but he died suddenly in 1832. Herman Melville was just twelve years old when his father died and the family was left with no money or resources. Melville's elder brother Gansevoort took control of their father's business while Melville clerked at a bank to help his family. His mother had expected some inherited wealth from her family but she did not receive it. During the 1830s, he attended the Albany Academy and Albany Classical School where he studied classic literature and participated actively in student debates. Also during this period, he developed his interest in writing.
Career of Herman Melville:
The inspiration for many of his writings come from his travelling experiences. "Typee: A Peep at Polynesian Life" was his first book published in 1846. Melville wrote the book based on his real life experiences on the island of Nuku Hiva in French Polynesia where he was held a captive. In 1847, he published "Omoo: A Narrative of Adventures in the South Seas" as a sequel of "Typee: A Peep at Polynesian Life". The book represent Tahiti and the customs and traditions of the place. His book "Mardi and a Voyage Thither", narrates about his experiences in South Pacific after he abandoned his ship, was published in 1849. Unfortunately, the book was not well received by the readers and was a critical failure. His semi-autobiographical book "Redburn: His First Voyage" based on his experiences in the ship journey to Liverpool was released on September 29, 1849. His experiences about in the U.S navy, he narrates in his book "White-Jacket" published in 1850 which is a severe critique of the life of American naval officers. His most popular work "Moby-Dick" the novel that is about the story of a wandering sailor and his adventures on the whale ship 'Pequod' was published in 1851. Unfortunately, this novel was a failure when it was released and it became Herman Melville's best work after his death. His one of the most unsuccessful book "Pierre: or, The Ambiguities" published by The Harper & Brothers in 1852. It was both a critical and a financial failure for Melville. His short story titled "Bartleby, the Scrivener: A Story of Wall Street" was published anonymously in November 1853, in the 'Putnam's Magazine' and was also re-published in 'The Piazza Tales'. He published "The Encantadas" in 1854. The novel was a critical success but it was a commercial failure. From July 1854 to March 1855 "Israel Potter: His Fifty Years of Exile" was published in parts in the 'Putnam's Magazine'. George Palmer Putnam in New York published the same in the form of a book. His book "The Confidence-Man: His Masquerade" published in 1857 and he took-up the job of a lecturer after the publication of this novel. After the end of American Civil War in 1866, his book "Battle Pieces and Aspects of the War" was published. However, it received poor critical reviews though it consisted of over 70 poems. Melville's epic poem named "Clarel: A Poem and Pilgrimage in the Holy Land" was published in 1876. It was published in two volumes and stretches to 18,000 lines. Herman Melville's one of the most acclaimed work that won many laurels all over the world, "Billy Budd" published after his death.
Personal Life & Legacy of Herman Melville:
Herman Melville's eyesight was weak throughout his life because he was hit by scarlet fever in childhood. He got married to the daughter of Lemuel Shaw, the Chief Justice of the Massachusetts Supreme Judicial Court, Elizabeth Shaw, on August 4, 1847. He shifted to Massachusetts with his wife in 1850. They had four children together.
Due to cardiac dilation, He died at the age of 72 at his New York home. He was buried to rest at the Woodlawn Cemetery in The Bronx, New York.
Notable Works of Herman Melville:
Moby Dick
Typee
Israel Potter
White-Jacket
Bartleby the Scrivener
Benito Cereno
Billy Budd, Foretopman
The Encantadas
The Happy Failure
Battle-Pieces and Aspects of the War
The Encantadas and Other Stories