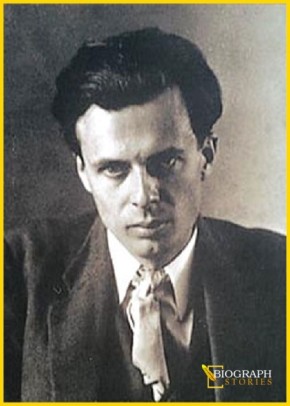 Aldous Leonard Huxley Quick Fact:
Born: 26 July 1894
Birth Place: Godalming, Surrey, England
Died: 22 November 1963 (aged 69)
Death Place: Los Angeles County, California, U.S.
Resting place: Compton, Surrey, England
Occupation: Writer, philosopher
Education: Eton College
Nationality: England
Notable works: Brave New World, Island, Point Counter Point, The Doors of Perception, The Perennial Philosophy, The Devils of Loudun etc.
Spouses: Maria Nys (married on 1919; died on 1955); Laura Archera (m. 1956)
Aldous Leonard Huxley Biography:
Being an English writer and philosopher, Aldous Leonard Huxley who authored nearly fifty books including both novels and non-fiction works with wide-ranging essays, dramas, travel books, narratives, and poems, was orn into the prominent Huxley family in 1894. He graduated from Balliol College, Oxford in English literature. He had his writing talents from the beginning of his study and at the beginning, he published short stories and poetry and edited the literary magazine Oxford Poetry. After that, he started to publish travel writing, satire, and screenplays in different times on different area. He spent the latter part of his life in the United States, living in Los Angeles from 1937 until his death. Huxley was widely recognized as one of the foremost intellectuals of his time additionally by being nominated for the Nobel Prize in Literature seven times and elected Companion of Literature by the Royal Society of Literature (1964). By nature, he was a humanist and pacifist and grew his interest in philosophical mysticism and universalism. He shared his vision of dystopia and utopia in his most famous novel Brave New World (1932) and his final novel Island (1962) respectively. At the age of 69, this futuristic writer died in US California and shared his amazing life and life lessons among his writing which were worldwide appreciated even till this day.
Aldous Leonard Huxley Personal Life:
Huxley was born in Godalming, Surrey, England, in 1894 being the third son of Leonard Huxley, who edited Cornhill Magazine as a writer, and Julia Arnold, his first wife. Huxley's nickname was "Ogie". His education began at Hillside School near Godalming but his first educational guide was her mother. After that he went on to Eton College. He suffered the eye disease keratitis punctata in 1911 leaving him practically blind for two to three years. In October 1913, Huxley joined Balliol College, Oxford,to have his under graduation in English literature. He volunteered for the British Army in January 1916, for the Great War. He edited Oxford Poetry in 1916, and in June of that year graduated BA with first class honors. He also worked as a French language teacher for a year at Eton College. Significantly, Huxley also worked for a time during the 1920s at Brunner and Mond in Billingham in County Durham, northeast England. Huxley married a Belgian girl named Maria Nys in 1919. They had one child called Matthew Huxley. After the death of his first wife, in 1956, he married Laura Archera who was an author, as well as a violinist and psychotherapist. She wrote This Timeless Moment, a biography of Huxley.
Literature life:
By being hugely talented, at the age of 17, Huxley completed his first novel at the age of 17 and began writing seriously later on as a successful writer and social satirist. At the beginning of his career, he had some good piece of writing published under his name like Social satires, Crome Yellow (1921), Antic Hay (1923), Those Barren Leaves (1925), and Point Counter Point (1928). Brave New World was his fifth novel and first dystopian work and his most famous novel of all. He also contributed to Vanity Fair and British Vogue magazines. Huxley also began to write and edit non-fiction works on pacifist issues, including Ends and Means, An Encyclopedia of Pacifism, and Pacifism and Philosophy. Later on his life, by becoming a Vedantist in the circle of Hindu Swami Prabhavananda, he wrote his book on widely held spiritual values and ideas. For his satirical novel After Many a Summer (1939), he won a British literary award, the 1939 James Tait Black Memorial Prize for fiction. During this period, he also worked as a Hollywood screenwriter in Metro-Goldwyn-Mayer (MGM). In 1944, Huxley wrote the introduction to the "Bhagavad Gita: The Song of God", which later was translated by Swami Prabhavananda and Christopher Isherwood. From 1941 until 1960, Huxley contributed 48 articles to Vedanta and the West, published by the society.
Death
Though he was a successful writer, his fate didn't provide him a peaceful ending. He was diagnosed with laryngeal cancer in 1960 and his health condition started to deteriorate. On his deathbed, due to his having advanced laryngeal cancer, Huxley made a written request to his wife Laura for "LSD, 100 µg, intramuscular. According to her account of his death in This Timeless Moment, she injected him an injection at 11:20 a.m. and a second dose an hour later on the request of his beloved husband. At his request, his wife shot him up with LSD a couple of hours before the end, and he tripped his way out of this world. Huxley died at the age of 69, at 5:20 p.m. (Los Angeles time), on 22 November 1963. Huxley's memorial service took place in London in December 1963 in the family grave at the Watts Cemetery, home of the Watts Mortuary Chapel in Compton, Guildford, Surrey, England.
Some Famous works of Aldous Leonard Huxley
Crome Yellow (1921)
Antic Hay (1923)
Those Barren Leaves (1925)
Point Counter Point (1928)
After The Fireworks (1930)
Brave New World (1932)
Eyeless in Gaza (1936)
After Many a Summer (1939)
Time Must Have a Stop (1944)
Ape and Essence (1948)
The Devils of Loudun (1952)
The Genius and the Goddess (1955)
Island (1962)