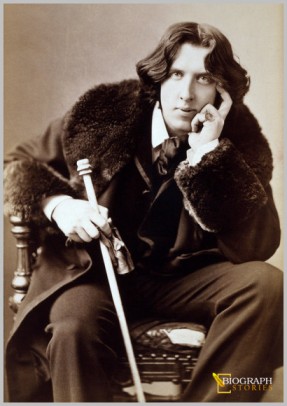 Oscar Wilde Quick Fact:
Born: 16 October 1854, Dublin, Ireland
Died: 30 November 1900 (aged 46), Paris, France
Buried: Père Lachaise Cemetery
Occupation: Author, poet, playwright
Language: English, French, Greek
Nationality: Irish
Education: Portora Royal School
Alma mater: Trinity College, Dublin, Magdalen College, Oxford
Period: Victorian era
Genre: Epigram, drama, short story, criticism, journalism
Literary movement: Aesthetic movement, Decadent movement
Spouse: Constance Lloyd(m. 1884; died 1898)
Who was Oscar Wilde?
Oscar Wilde, full name Oscar Fingal O'Flahertie Wills Wilde, was an Anglo-Irish playwright, novelist, poet, and critic. He is one of the greatest playwrights of the Victorian Era. He was a popular literary figure in late Victorian England. He was a writer of nine plays, one novel, and numerous poems, short stories, and essays. Wilde was the spokesperson of the great Aesthetic movement, which underline value of aesthetic more than moral or social themes. Beside this, he was also infamous for his for his wit, flamboyance, and homosexuality. He was imprisoned for two years for relationships with men.
Early Life of Author Oscar:
Oscar Wilde was born in Dublin, Ireland, on October 16, 1854. He was the second of three children. His father Sir William Wilde was a surgeon and his mother Jane Wilde was a poet and journalist. Wilde's first education was at home, and then in Ireland's one of the oldest schools. Oscar Wilde was a very bright student and left home with a scholarship to study at Trinity College in Dublin in 1871. In Trinity College, he studied the classics, literature, and philosophy. He was an excellent student there and wins competitive academic awards, and comes first in his class. He also competed for a scholarship to study at Magdalen College, Oxford for another four years and won in 1874.
Writing career of Oscar Wilde:
In 1878, the year of his graduation from Magdalen College, he won the Newdigate Prize for his poem "Ravenna". After graduating Wilde moved to London and there in 1881, he continued his work and published his first collection, Poems. Wilde traveled to New York City next year in 1882 for an American lecture tour, where he delivered 140 lectures in just nine months. Afterwards, he joined another lecture circuit of England and Ireland. By his lectures and early poetry, he made himself as a leading representative of the aesthetic movement. In 1884, he married a wealthy Englishwoman named Constance Lloyd and they had two children in 1885 and in 1886. He started to publish widely in the following year. In 1887, Wilde started to work as editor in Lady's World magazine. In 1888, he published "The Happy Prince and Other Tales", a collection of children's stories. In 1891, he published his first and only novel, The Picture of Dorian Gray. The novel is now honored as a great and classic work of him. In February 1892, Wilde's first play, "Lady Windermere's Fan" opened and it's mass popularity and critical acclaim encouraged Wilde to adopt playwriting as his primary literary form. In next few years, Wilde produced many great plays, "A Woman of No Importance" (1893), "An Ideal Husband" (1895) and "The Importance of Being Earnest" (1895) were his most famous plays.
Later Life of Oscar Wilde:
When Oscar Wilde was enjoying his greatest literary success, he started a relationship with a young man named Lord Alfred Douglas. Soon Douglas's father knows about their affair and left calling card accusing him as sodomy. However, his homosexuality was open secret that time but Wilde got so angry by Douglas's father note that he decided to sue him. Queensberry and his lawyers presented as his love letters to Douglas as evidence even some of his moral content came under criticism. Wilde lose the case and arrested on charges of "gross indecency." He sentenced to two years in prison. In 1897, Wilde freed from prison. He was devastated at that time. He moved to France and living in cheap hotels. During these last years, Wilde wrote very little. His only notable work that time was a poem "The Ballad of Reading Gaol" about his experiences in prison. At the age of 46, Wilde died of meningitis on November 30, 1900.
Wilde wrote many short stories, plays and poems that continue to inspire millions fo readers around the world.
Notable Works of Oscar Wilde:
The Picture of Dorian Gray
The Importance of Being Earnest
De Profundis
Lady Windermere's Fan
The Ballad of Reading Gaol
Intentions
A Woman of No Importance
Salomé