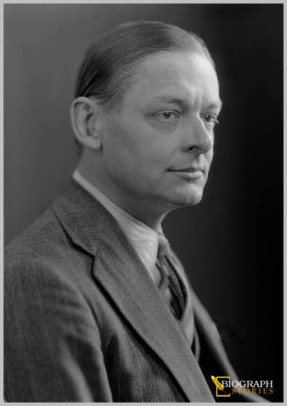 T.S. Eliot Quick Fact:
Born: 26 September 1888, St. Louis, Missouri, U.S.
Died: 4 January 1965 (aged 76), London, United Kingdom
Occupation: Poet, essayist, playwright, publisher, critic
Citizenship: American (1888–1927), British (1927–1965)
Education: AB in philosophy (Harvard, 1909), PhD (cand) in philosophy (Harvard, 1915–1916)
Alma mater: Harvard University, Merton College, Oxford
Period: 1905–1965
Literary movement: Modernism
Notable awards: Nobel Prize in Literature (1948), Order of Merit (1948)
Spouse: Vivienne Haigh-Wood (m. 1915; sep. 1932), Esmé Valerie Fletcher
(m. 1957)
Biography of T.S. Eliot:
American-English poet Thomas Stearns Eliot, better known as T.S. Eliot, was a playwright, literary critic, and editor. His works influenced many established British poets. From his early childhood, he was infatuated with literature. At the age of fourteen, he wrote his first poetry and at the age of seventeen, his literary talent began to bloom. He made quite an impression by his regular contribution to the Harvard Advocate. However, when he shifted to England at the age of twenty-six, he actually began to flourish. His first published book, "Prufrock and Other Observations", made him famous overnight. He received the Nobel Prize in Literature at the age of sixty for his contribution to poetry. T.S. Eliot was a groundbreaking 20th-century poet who is known widely for his work "The Waste Land".
Childhood & Early Life of T.S. Eliot:
On 26 September 1888, T.S. Eliot was born, in St. Louis, Missouri into a distinguished family. He was born to Henry Ware Eliot, an industrialist and philanthropist and Charlotte Champe Stearns Eliot, a schoolteacher and poet. The couple had seven children and Eliot was the youngest. Eliot suffered from congenital double inguinal hernia in his childhood and this prevented him from participating in many childhood activities. He spent most of his time reading stories about Wild West and savages. He was especially fond of 'The Adventures of Tom Sawyer'. Thomas Elliot entered Smith Academy in 1898. His grandfather William Greenleaf Eliot founded it. Here, among other subjects, he studied Latin, Ancient Greek, French and German. Edward Fitzgerald's Rubaiyat of Omar Khayyam inspired his first poems, written at the age of fourteen. After graduated from school in 1905, T.S. Eliot entered Milton Academy in Massachusetts for a preparatory year. His literary talent started blooming at that time. His oldest poem, written in April 1905, which survives in manuscript form, later revised and printed in The Harvard Advocate as "Song". Before that, in February 1905, he had another poem, 'A Fable For Feasters', published in the Smith Academy Record. In the same year, he also published three stories "Birds of Prey", "A Tale of a Whale" and "The Man Who Was King". He entered at the Harvard University with philosophy in 1906. He was greatly influenced by George Santayana, the philosopher and poet, and Irving Babbitt, the critic during his university years. He made good impression by contributing regularly to Harvard Advocate. He completed his undergraduate course in three years, instead of four years and in 1909 received his Bachelor of Arts degree. He worked as a philosophy assistant at Harvard for one year and in 1910, he moved to France. He studied philosophy at the Sorbonne University in Paris In 1910-1911. He attends lectures of Henri Bergson; He also studied poetry with Henri Alban-Fournier, John Webster and John Donne, and Jules Laforgue. It the time when Eliot started developing his own style. He returned to Harvard in 1911 and studied Indian philosophy and Sanskrit until 1914. After being awarded a scholarship to Merton College, Oxford, he left for England.
Career of T.S. Eliot:
T.S. Eliot never fond of university towns therefore, he often escaped to London, where he met many poets and writers and chief among them was Ezra Pound, an established poet in London's literary circle. Soon Ezra Pound recognize Eliot's budding talent. She introduced him to many poets, writers, artists and intellectuals in London. He also helped him to publish his works. Eliot left Merton in 1915. He started teaching French and Latin in Highgate Junior School in London. He took evening extension classes at Birkbeck, University of London, to earn extra money. Another source of his income was writing reviews that time. He published his poem "The Love Song of J. Alfred Prufrock" Also in 1915 in 'Poetry'. It was his first major work and the first poem of this period. He completed his doctoral dissertation for Harvard, 'Knowledge and Experience in the Philosophy of F. H. Bradley' in 1916. He found a job as a clerk at the Lloyds Bank in 1917 and he would hold this position until 1925. The same year as the literally editor of Egoist, a London literally magazine he replaced Richard Aldington. He had published his first book of poems "Prufrock and Other Observations" in 1917 and the collection established him as one of the leading poets of the day. In 1919, one of his seminal works, "Tradition and the Individual Talent", was first published in the Egoist. Later it was published in his first book on criticism, "Sacred Wood" in 1920. Because of some kind of nervous breakdown, Elliot traveled to Margate in Kent. He was concentrating on finishing 434-line poem "West Land". However, he took quite a few months to complete this. In England, in the opening issue of The Criterion, a literary journal Eliot founded in October 1922, "West Land" was first published. Very soon, it became immensely popular and Eliot remained its editor until it closed down in 1939. Eliot left Lloyd Bank in 1925 and join Faber and Gwyer, a publishing firm that later became Faber and Faber. He work there for the rest of his career and became one of its directors. He also published his poems "The Hollow Men" in 1925. He tried his hand at writing a verse drama in 1926. However, he was able to complete only the first scene. In 1927, the second scene was published. They were compiled, "Sweeney Agonistes: Fragments of an Aristophanic Melodrama" in early 1930s. He had published his second long poem, "Ash Wednesday" in April 1930. In 1939, his next major work, "Old Possum's Book of Practical Cats" was published. T.S. Eliot started working as an editor for the Wesleyan University Press in the early 1960s. Although his health had started deteriorating by then.
Personal Life & Legacy of T.S. Eliot:
T.S. Eliot married Vivienne Haigh-Wood, a Cambridge governess and a writer on 26 June 1915. However, none of them was happy in this marriage. In 1933, the couple was formally separated. Eliot had a relationship with Mary Trevelyan, a warden of Student Movement House, University of London from 1938 to 1957. Mary wanted to marry him but for some reason, it never took place. Eliot married Esmé Valerie Fletcher, his secretary at Faber and Faber in a private ceremony on 10 January 1957. Eliot remained married to her for the rest of his life. Eliot died because of emphysema at his home in London on 4 January 1965. He was cremated at Golders Green Crematorium. His ashes were taken to East Coker according with his wishes and buried at the St Michael and All
Notable Works of T.S. Eliot:
The Waste Land
Murder in the Cathedral
The Dry Salvages
Burnt Norton
East Coker
Four Quartets
Little Gidding
The Sacred Wood
The Love Song of J. Alfred Prufrock
Sweeney Agonistes