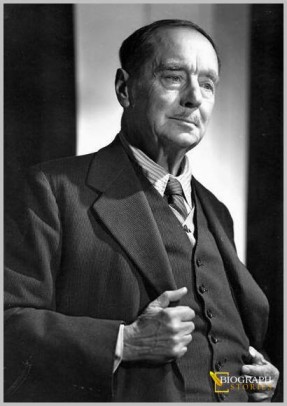 Herbert George Wells Quick Fact:
Born: 21 September 1866, Bromley, Kent, England
Died: 13 August 1946 (aged 79), Regent's Park, London, England
Occupation: Novelist, teacher, historian, journalist
Alma mater: Royal College of Science (Imperial College London)
Genre: Science fiction (notably social science fiction), social realism
Subject: World history, progress
Years active: 1895–1946
Spouse: Isabel Mary Wells (1891–1894, divorced), Amy Catherine Robbins (1895–1927, her death)
Biography of Herbert George Wells:
English writer Herbert George Wells also referred, H. G. Wells was a journalist, sociologist, and historian best known for his science fiction works. He had written many novels, short stories, biographies, and autobiographies. He was very interested in reading since his childhood. He used to read books by Washington Irving, Charles Dickens, Jonathan Swift, Voltaire, and many other important writers. They influenced his works in some way or the other. George Wells became a literary sensation when his novel "The Time Machine" published. He had promoted careers of many other famous writers like James Joyce and Joseph Conrad. He is recognized as one of the Fathers of Science Fiction. His writing has been a great influence on later generations of science fiction writers. Not only fiction but he also wrote social satires, essays, articles, and non-fiction books as well. He was an outspoken socialist and most of his later works were political and pedagogic. He had a great influence on our vision of the future. Even after seven decades of his death, he is remembered as a great author of all time.
Childhood & Early Life of Herbert George Wells:
On September 21, 1866, H. G. Wells was born in Bromley, Kent, the UK. Wells came from a working class background. Wells born to a professional cricketer and owner of a shop, Joseph Wells, and a housekeeper, Sarah Neal. He had very poor health from his childhood. His parents were worried about him and thought that, he would die like his older sister who died at the age of seven. After Wells's father's shop failed, Wells and his brother started working as assistants to a draper. At his mother's workplace, Wells's major attraction was the library of the owner. He used to read many books from that library. Until 1880, he attended Thomas Morley's Commercial Academy and left his apprenticeship with the draper in 1883. The same year joined Midhurst Grammar School as a teacher and this helped him to continue his own studies. On a scholarship, he attended the Normal School of Science. He discovered his interest for science there. Besides other subjects, he took up physics, chemistry, astronomy, and biology and under Thomas Henry Huxley he studied biology and Darwinism. However, he could not complete the course due to the financial crisis at home lost his scholarship as well. Later, he helped to set up the Royal College of Science Association as an alumnus, and in 1909 became its first president. He was an active participant in the debating society of the school.
Career of Herbert George Wells:
H. G. Wells devoted more than 50 years of his life to writing. Even at a certain point, he wrote three books a year, on an average. In 1893, he published his first book "Textbook of Biology". In 1895, with the publication of his first novel "The Time Machine", he became an overnight literary sensation. This novel become so popular that made him the "father of science fiction". In quick succession, he published the "The Island of Doctor Moreau" (1896), "The Invisible Man" (1897) and "The War of the Worlds" (1898). He also served as a book reviewer for many years, at the 'Saturday Review'. Besides to his fiction, Wells also wrote many essays, articles and nonfiction books. He published his first non-fiction book called "Anticipations" in 1901. This book was a prediction of future and many of it proved remarkably accurate. He predict about the development of major cities and suburbs, economic globalization, and some future military disputes. He was a socialist too, and in 1905, in his book "Kipps", he wrote about social class and economic disparity. He talked about lower-middle-class life in "The History of Mr Polly". Critics believed that Charles Dickens influenced his works. He predicted the splitting of atom and the creation of atomic bombs in his novel "The World Set Free", eventually the prediction came true and the novel became popular. In 1920, he published one of his most popular work "The Outline of History" and this book sold more than two million copies, and translated into many languages. This prominent author's attitude underwent a major change in his final days. In 1945, he published a novel "Mind at the End of Its Tether" and it was criticized because it talked about the end of humanity. He also published a film script in the form of a novel in 1933, called "The Shape of Things to Come" and it was made into film by Alexander Korda in 1936.
Personal Life of Herbert George Wells:
In 1891, H. G. Wells married his cousin Isabel Mary Wells. However, the couple separated in 1894 after he fell in love with his student Amy Catherine Robbins, also known as Jane. In 1895, Wells married to Jane and they had two sons together, George Philip and Frank. In spite of being married, he had numerous affairs and relationships and these women became inspirations for some of his characters. Later, Wells and Jane were separated and Jane died because of cancer in 1927. He also had relationship with writer Amber Reeves and feminist writer Rebecca West. In 1914, 1920 and 1934, he visited Russia and later he wrote a book "Russia in the Shadows", where he described Russia recovering from a total social collapse. On August 13, 1946, this great author died in London at the age of 79. The reason of his death was unknown. In 1960, Dr. John Hammond founded The H.G. Wells Society for promoting Wells' works and thoughts.
Notable works of Herbert George Wells:
The Outline of History
The Country of the Blind
The Red Room
The Time Machine
The Invisible Man
The War of the Worlds
The Island of Doctor Moreau
The First Men in the Moon
The Shape of Things to Come
When the Sleeper Wakes