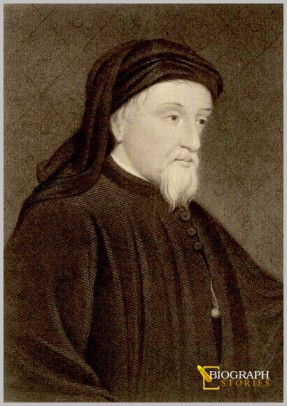 Geoffrey Chaucer Quick Fact:
Born: c. 1340s; London, England
Died: 25 October 1400 (aged 56–57); London, England
Resting place: Westminster Abbey
Occupation: Author, poet, philosopher, bureaucrat, diplomat
Era: Plantagenet
Spouse(s): Philippa Roet (m. 1366)
Children: Elizabeth Chaucer; Thomas Chaucer; Agnes; Lowys (Lewis)
Parents: John Chaucer (father); Agnes de Copton (mother)
Who was Geoffrey Chaucer?
Geoffrey Chaucer who was recognized as an outstanding English poet before Shakespeare and "the first finder of our language." One of his works called The Canterbury Tales ranks as one of the greatest poetic works in English. Geoffrey Chaucer also made important contribution in the second half of the 14th century to the management regarding public affairs as courtier, diplomat, and civil servant. The exceptional nature of his works are their variety in topic selection, genre, tone, and style and in the complexities presented concerning the human pursuit of a sensible existence. Additionally, his woks also consistently reflect a universal humor combined with serious and tolerant consideration of important philosophical questions.
Early Years and career
Geoffrey Chaucer was born in probably around c. 1340s in London, England. He was born in a family that for at least four generations was in middle class English people. His father's name is John Chaucer who worked as London vintner and a deputy to the king's butler.
Biographers around the world found it difficult to chase the information regarding his early life as there were few information regarding what happened in his childhood. Still, his first appearance in the records was in 1357 when he was a member of the household of Elizabeth who was the countess of Ulster that time. Geoffrey's father probably placed him through his recommendations among the group of young people who were used to serve in that royal household.
In the year 1359, Chaucer became a member of Edward III's army in France by showing quite a good amount of dedication and performance. But unfortunately, he was captured during the unsuccessful siege of Reims. Luckily, the king that time paid his ransom, and afterwards, he started to serve as the messenger from Calais to England during the peace negotiations of 1360.
In the year 1366,Geoffrey Chaucer married his wife named Philippa Pan who had been in the service of the countess of Ulster. In 1367 Chaucer received an annuity for life as a reward of being worked as yeoman of the king. In the next year, he became listed among the king's esquires.
Information concerning Chaucer's children is not fully clear. The probability is that he and Philippa had two sons and two daughters. One son, Thomas Chaucer, who died in 1434, owned large tracts of land and held important offices in the 1420s, including the forester ship of North Petherton.
In 1369, he got himself involved in military service in France. Obviously, Chaucer's career was prospering, and his first important poem 'Book of the Duchess'. That poem was written probably in late 1369 or early 1370 which was consists of more than 1,300 lines.
Working period as diplomat and civil servant
Chaucer went several times on political missions in Flanders, France, and Italy during 1370. In the year 1372, he started his first Italian journey was for negotiations with the Genoese regarding an English port for their commerce and with the Florentines concerning loans for Edward III. His next Italian journey occupied May 28 to September 19, 1378 being a member of a mission to Milan concerning military matters. During the 1370s, Chaucer and his wife received generous monetary grants several times from the king and from John of Gaunt. On May 10, 1374, he was awarded a rent-free dwelling above Aldgate, in London. On June 8 of that very year, he became the comptroller of the customs and subsidy of wools, skins, and tanned hides for the Port of London.
Chaucer's most important work of the 1370s was Hous of Fame which was a poem consisting more than 2,000 lines.
The Middle Years: Political and personal life
In a deed of May 1, 1380, one Cecily Champagne released Chaucer from legal action which were causing anxiety in his personal life that time by being the victim he was not guilty for. He carried out his work at the Customs House and in the year 1382, he was additionally appointed comptroller of the petty customs for wine and other merchandise.
Unfortunately, earlier in October 1386, his residence contract in London was given to another man and by December of that year, heirs were named for both of his comptrollerships in the customs.
In October 1385, he was appointed as justice of the peace for Kent and in August 1386, he became knight of the shire for Kent for the purpose of attending Parliament in October. Further, in 1385 he probably moved to Greenwich and few days after started for Kent and lived there.
The period within 1386-1389 was very difficult for Chaucer. Although, he repositioned as justice of the peace for 1387, he was not returned to Parliament after 1386. In 1387, he received protection for a year to go to Calais, in France. In 1388, unfortunately again he fell under victim of a series of suit for debts and thus he sold his royal pension for a lump sum.
On July 12, 1389, he got himself involved in a job of clerk of the king's works with executive responsibility for repair and maintenance of royal buildings with a comfortable salary.
Even though he remained in career hardship, he didn't give up his potentials of writing. In the 1380s, Chaucer produced his fourth and final dream-vision poem, The Legend of Good Women, which is not a success.
Chaucer's great literary accomplishment of the 1390s was The Canterbury Tales. For this crowning glory of his 30 years of literary composition, Chaucer used his wide and deep study of medieval books of many sorts and his acute observation of daily life at many levels. He also employed his detailed knowledge of medieval astrology and subsidiary sciences as they were thought to influence and dictate human behavior.
Last Years and death
Chaucer worked as clerk of the king's works for two years from July 1389 to June 1391. In June 1391 he was appointed sub forester of the king's park in North Petherton located in Somerset. He worked in this position in that office until his last breath. He retained his home in Kent and continued in favor at court, receiving royal grants and gifts from 1393 to1397.
In December 1399 Chaucer took a lease on a house in the garden of Westminster Abbey. But in October of the following year, he died. He was buried in the Abbey, a signal honor for a commoner.