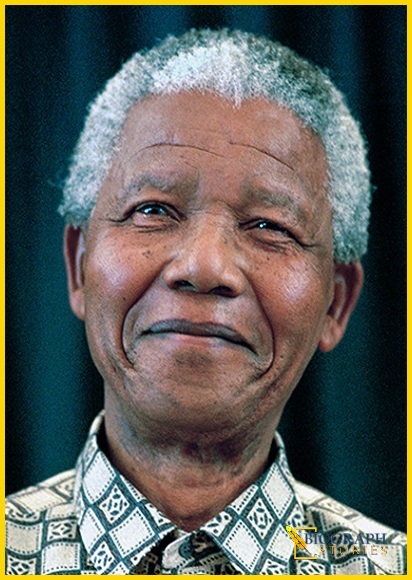 Nelson Mandela Quick Facts
Born: 18 July 1918, Mvezo, Cape Province, South Africa
Died: 5 December 2013 (aged 95), Johannesburg, Gauteng, South Africa
Cause of death: Respiratory infection
Resting place: Mandela Graveyard, Qunu, Eastern Cape, South Africa
Political party : African National Congress
Other political Affiliations: South African Communist Party
Spouse(s): Evelyn Ntoko Mase, (m. 1944; div. 1958), Winnie Madikizela, (m. 1958; div. 1996), Graça Machel, (m. 1998; his death 2013)
Parents: Nosekeni Fanny, Gadla Henry Mphakanyiswa
Alma mater: University of Fort Hare, University of London, University of South Africa, University of the Witwatersrand
Occupation: Activist, Politician, Philanthropist, Lawyer
Known for: Anti-Apartheid Movement
Who Was Nelson Mandela?
Nelson Mandela was a social rights activist, politician and philanthropist who became South Africa's first black president from 1994 to 1999. For 20 years, he directed a campaign of peaceful, nonviolent defiance against the South African government and its racist policies. After having a major time in jail, in 1993, Mandela and South African President F.W. de Klerk were jointly awarded the Nobel Peace Prize for their efforts to dismantle the country's apartheid system. For generations to come, Mandela will be a source of inspiration for civil rights activists worldwide.
Nelson Mandela Early Life
Mandela was born on July 18, 1918, in the tiny village of Mvezo, on the banks of the Mbashe River in Transkei, South Africa. His birth name was Rolihlahla Mandela. Mandela's father, who was destined to be a chief, served as a counselor to tribal chiefs for several years. Mandela was only an infant at the time, and his father's loss of status forced his mother to move the family to Qunu. The family lived in huts and ate a local harvest of maize, sorghum, pumpkin and beans, which was all they could afford. Water came from springs and streams and cooking was done outdoors. Mandela played the games of young boys, acting out male scenarios with toys he made from the natural materials available, including tree branches and clay.
Mandela was baptized in the Methodist Church. He went on to become the first in his family to attend school. When Mandela was nine years old, his father died of lung disease, causing his life to change dramatically. He was adopted by Chief Jongintaba Dalindyebo.
Mandela subsequently left the carefree life he knew in Qunu. He traveled by motorcar to Mqhekezweni.
Mandela took classes in a one-room school next to the palace, studying English, Xhosa, history and geography.
It was during this period that Mandela developed an interest in African history. He learned how the African people had lived in relative peace until the coming of the white people.
Rise of his political Awakening
When Mandela was 16, it was time for him to partake in the traditional African circumcision ritual to mark his entrance into manhood. In African tradition, an uncircumcised man cannot inherit his father's wealth, marry or officiate at tribal rituals. Mandela participated in the ceremony with 25 other boys.
His mood shifted during the proceedings, however, when Chief Meligqili explained that they were enslaved in their own country. Because their land was controlled by white men, they would never have the power to govern themselves.
Under the guardianship of Regent Jongintaba, Mandela was groomed to assume high office as a counselor to one. Mandela attended a Wesleyan mission school, the Clarkebury Boarding Institute and Wesleyan College, where, he would later state, he achieved academic success through "plain hard work."
In 1939, Mandela enrolled at the University of Fort Hare which was considered Africa's equivalent of Harvard, drawing scholars from all parts of sub-Saharan Africa.
He settled in Johannesburg, where he worked a variety of jobs, including as a guard and a clerk, while completing his bachelor's degree via correspondence courses. He then enrolled at the University of the Witwatersrand in Johannesburg to study law.
Wife and Children
Mandela was married three times and had six children. He wed his first wife, Evelyn Ntoko Mase, in 1944. The couple had four children together, but unfortunately the couple divorced in 1957.
In 1958, Mandela wed Winnie Madikizela. The couple had two daughters together, Zenani and Zindziswa before separating in 1996.
Two years later, in 1998, Mandela married Graca Machel, the first Education Minister of Mozambique, with whom he remained until his death in 2013.
Prison Years
In 1961, Mandela co-founded Umkhonto we Sizwe an armed offshoot of the ANC dedicated to sabotage and use guerilla war tactics to end apartheid. In 1961, Mandela arranged a three-day national workers' strike. He was arrested for leading the strike the following year and was sentenced to five years in prison. In 1963, Mandela was brought to trial again. This time, he and 10 other ANC leaders were sentenced to life imprisonment for political offenses, including sabotage.
Mandela spent 27 years in prison, from November 1962 until February 1990. Mandela continued to be such a potent symbol of black resistance that a coordinated international campaign for his release was launched.
In 1982, Mandela and other ANC leaders were moved to Pollsmoor Prison, allegedly to enable contact between them and the South African government. In 1985, President P.W. Botha offered Mandela's release in exchange for renouncing armed struggle.
It wasn't until Botha suffered a stroke and was replaced by Frederik Willem de Klerk that Mandela's release was finally announced, on February 11, 1990.
Upon his release from prison, Mandela immediately urged foreign powers not to reduce their pressure on the South African government for constitutional reform. While he stated that he was committed to working toward peace, he declared that the ANC's armed struggle would continue until the black majority received the right to vote.
In 1991, Mandela was elected president of the African National Congress, with lifelong friend and colleague Oliver Tambo serving as national chairperson.
Nobel Peace Prize
In 1993, Mandela and President de Klerk were jointly awarded the Nobel Peace Prize for their work toward dismantling apartheid in South Africa.
After Mandela's release from prison, he negotiated with President de Klerk toward the country's first multiracial elections. White South Africans were willing to share power, but many black South Africans wanted a complete transfer of power.
Due in no small part to the work of Mandela and President de Klerk, negotiations between black and white South Africans prevailed: On April 27, 1994, South Africa held its first democratic elections. Mandela was inaugurated as the country's first black president on May 10, 1994, at the age of 77, with de Klerk as his first deputy.
From 1994 until June 1999, President Mandela worked to bring about the transition from minority rule and apartheid to black majority rule.
Retirement and Later life of Nelson Mandela
By the 1999 general election, Mandela had retired from active politics. He continued to maintain a busy schedule, however, raising money to build schools and clinics in South Africa's rural heartland through his foundation, and serving as a mediator in Burundi's civil war.
Mandela was diagnosed and treated for prostate cancer in 2001. In June 2004, at the age of 85, he announced his formal retirement from public life and returned to his native village of Qunu.
Nelson Mandela's Death
Mandela died on December 5, 2013, at the age of 95 in his home in Johannesburg, South Africa. After suffering a lung infection in January 2011 and He was released after a few days. Mandela would be hospitalized many times over the next several years in December 2012, March 2013 and June 2013 for further testing and medical treatment relating to his recurrent lung infection.