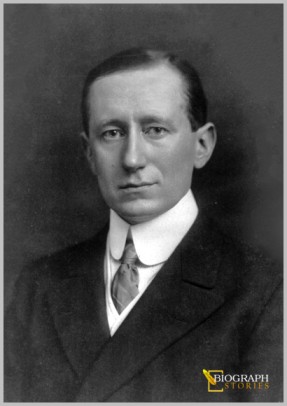 Guglielmo Marconi Quick fact:
Born: 25 April 1874, Palazzo Marescalchi, Bologna, Italy
Died: 20 July 1937 (aged 63), Rome, Italy
Nationality: Italian
Alma mater: University of Bologna
Known for: Radio
Awards: Matteucci Medal (1901), Nobel Prize for Physics (1909), Albert Medal (1914), Franklin Medal (1918), IEEE Medal of Honor (1920), John Fritz Medal (1923)
Scientific career
Academic advisors: Augusto Righi
Founder/Co-Founder: CMC Electronics, Marconi Company, Marconi Wireless
Biography of Guglielmo Marconi:
An Italian engineer and inventor Guglielmo Marconi who successfully demonstrated the working of long-distance wireless telegraph and radio signal. Born into a wealthy and educated family, this Nobel-prize winner was first educated in Bologna and Florence, later moving to a technical school in Leghorn. The works of Hertz, Maxwell and Lodge impressed him as a boy. He began experimenting in his father's estate and was successful in sending wireless signals over short distances, greater than a mile. His invention was received with enthusiasm when he took his machine to England. British Post Office was one of the interested parties. Marconi applied for his first patent within a year for his successful endeavor of broadcasting to 12 miles. He transmitted his historic wireless signals across the Atlantic because he was determined to establish that wireless waves were not influenced by the curves of Earth. However, the claims of his transatlantic signal were never quite verified. Marconi continuously explored the various possibilities of the usage of radio waves beyond the spectrum of telecommunications. His experimentation resulted in discovering the use of microwave in physical therapy. Guglielmo was quite conservative as an entrepreneur but when it came to patents, he never disclosed the full design until the patent was given to him, allowing him to realize the full monetary benefit.
Childhood & Early Life of Guglielmo Marconi:
On April 25, 1874, Marconi was born in Bologna, Italy. He was born to Giuseppe Marconi and Anne Jameson. Marconi was the second son of this couple. He belongs to a wealthy family. His father, Giuseppe Marconi was a wealthy Italian country gentleman and his mother, Anne Jameson, an Irish was the daughter of Daphne Castle and Andrew Jameson, a family of distillers. He was largely educated at home and privately tutored in Bologna, Florence and Leghorn. Marconi was interested in electrical and physical science as a boy. He began experimenting with radio waves as a student at the Livorno Technical Institute in 1894. He studied works of masters like Maxwell, Hertz, and Lodge.
Career of Guglielmo Marconi:
He was capable to develop a basic model of wireless telegraphy in 1895 incorporating the earlier scientific work of Henry R. Hertz and Oliver Lodge in electromagnetic radiation. He set up a laboratory in his father's estate for experiments and this was largely done in that laboratory. He found some enthusiastic backers in 1896 when Marconi took the machine to England. One of them was the Engineer-in-Chief in the British Post Office William Preece. Marconi was successfully sending broadcasting up to 12 miles within a year, and Marconi was granted the patent for wireless telegraphy in the latter half of 1896. He started the 'Wireless Telegraph and Signal Company' in 1897 and 3 years later that was renamed as 'Marconi's Wireless Telegraph Company'. In 1899, the pioneering inventor established wireless communication between France and England and sent signals across the English Channel. For communication with Wimereux in France, a wireless station was started in South Foreland. Britishk battleships also exchanged messages in a distance of 75 miles the same year. To report to the newspapers in New York about the progress of America's Cup, a yacht race, he equipped two American ships with his machine on September 1899. In 1900, Guglielmo took his patent for 'syntonic or tuned telegraphy'. To establish that Earth's curvature can never interfere with wireless signals, he established transatlantic communication between Cornwall and Newfoundland the following year. On stretching the distance of wireless communication, the visionary continued with his experiments and in 1902, established transatlantic services from Canada to Ireland. He talked about daylight effect related to wireless technology the same year. For his work with wireless communication, in 1909 Marconi shared the Nobel Prize in Physics with Karl Braun. To enhance their usage and range, Karl helped to modify the transmitters of Marconi. Though he was awarded the Nobel Prize for co-discovering the wireless telegraphy, others challenged his title 'Father of Radio' several times. According to claims, Alexander Popov, a Russian scientist was broadcasting between structures; while in India Jagadish Chandra Bose was using radio waves for ringing the bells. He patented 'timed spark' system in 1912. The initial wireless transmissions used spark technology for communication. He served the Navy rising to the position of Commander during the years of 1914 to 1916. In the 1920s, as a way of imperial communication he established the beam system. He worked on still shorter waves leading to the invention of microwave radiotelephone link in 1931.
Awards & Achievements of Guglielmo Marconi:
From several universities, Marconi received honorary doctorates. He was awarded the 'Albert Medal of the Royal Society of Arts', the 'Kelvin Medal' and the 'John Fritz Medal'. 'Order of St. Anne by the Tsar of Russia' decorated him. 'Grand Cross of the Order of the Crown of Italy' honored him in 1902. In the year 1905, he got the position of 'Chevalier of the Civil Order of Savoy'. For developing wireless telegraphy, Marconi shared the 'Nobel Prize' in 1909. Marconi was appointed as the 'Honorary Knight Grand Cross of the Royal Victorian Order' in 1914, England.
Personal Life & Legacy of Guglielmo Marconi:
Marconi exchanged nuptial vows with Beatrice O'Brien in 1905. The couple had three children together, a son named Giulio, and two daughters named as Degna and Gioia. The couple separated in 1927. After separation, he married to Countess Bezzi-Scali of Rome. This couple were blessed with a daughter, Elettra, after which he named his favourite yacht. The erudite inventor breathed his last on 20th July, 1937, after suffering from multiple heart attacks.